---
Weltklang – all about the world of music (Wh.)
Olaf Mittelstädt
Olaf Mittelstädt
Schlagworte:
Sendezeiten:
jeden 2. und 4. Freitag im Monat 20-22 Uhr
Wiederholungen:
jeweils Donnerstag darauf 14-16 Uhr
Homepage: www.weltklang.de
16.05.2019 Weltklang No. 178

– long long –

Es heißt ja man solle auch mal die Perspektive ändern. Jepp, hab ich gemacht. Für die aktuelle Ausgabe von Weltklang, der Nr. 178, wurde von oben herabgezählt. Also vom längsten Stück des jeweiligen Albums aus gestartet.

Somit bekommt ihr in dieser Ausgabe nicht nur deutlich längere Titel zu hören, sondern auch hoffentlich sehr selten gehörtes.
Die musikalische Breite bleibt wie gehabt umfassend. Von World über Pop bis Jazz und Reggae haben sich fast alle nur erdenklichen Stile eingefunden.
Eröffnet wird mit CAN und ihrem letzten Album  RITE TIME, für mich eines ihrer Besten. In Ausgabe 177 hatte ich zudem Layla Zoe's Vergangenheit gelobt,  was ich heute mit dem 20minütigen Live-Track von "It's a man's World" belegen möchte. BLACK FLOWER, fantastischer World-Jazz aus Ethiopien, die im Fluss von Akale Wube mit schwammen. Nicht zu vergessen die Sprachkünstlerin Kate Tempest, hier zu hören mit einem älterem BBC Beitrag, von der ich aber an dieser Stelle auch schon das grandiose aktuelle Album "Let Them Eat Chaos" vorstellte.
Also, es gibt wieder viel zu entdecken.
Viel  Spaß damit und bis zum nächsten Mal.
Gruß
Olaf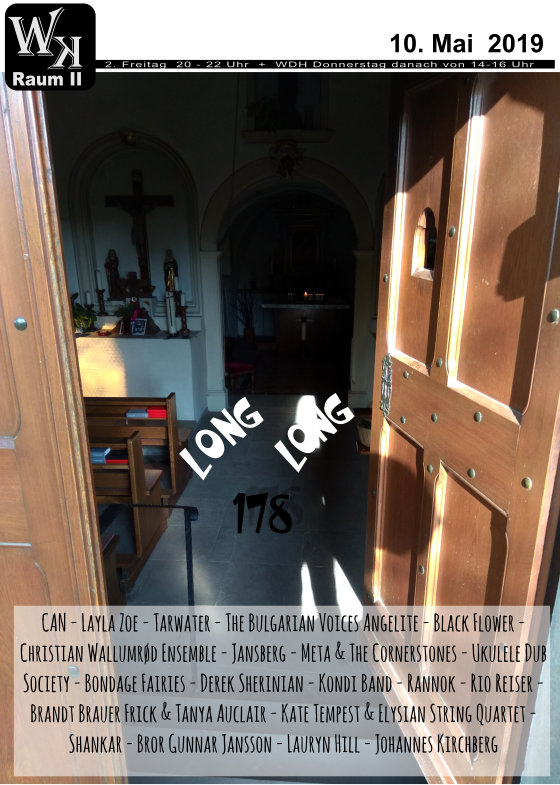 Playlist
CAN – Rite Time – 05 Like A New Child
Layla Zoe – Live At Spirit Of 66 \CD 2\ – 04 It's A Man's World
Tarwater – Silur – 04 Seafrance Cézanne
The Bulgarian Voices Angelite – Angelina – 06 Zhani, Navaliai, Nevesto (At Harvest-Time)
Black Flower – Abyssinia Afterlife – 09 Abyssinia Afterlife
Christian Wallumrød Ensemble – Kurzsam and Fulger – 01 Haksong
Jansberg – Terra Nova – 07 – Gråbjørn
Meta & The Cornerstones – Ancient Power – 08 Without Heart
Ukulele Dub Society – Ukulism – 09 Inca Roads
Bondage Fairies – Alfa Gaga Cp Wifi – 09 Blame it on art
Derek Sherinian – Blood of the Snake – 01 Czar of Steel
Kondi Band – Salone – 02 Belle wahalla
Rannok – Dejodejo – 04 E20
Rio Reiser – Am Piano I – 15 Wovon träumst du
BBC Late Junction Sessions Unpopular Music (45 RPM) – 07 Brandt Brauer Frick & Tanya Auclair – Bolt Of Light
BBC Late Junction Sessions Unpopular Music (45 RPM) – 05 Kate Tempest & Elysian String Quartet – Where The Heart Is
Shankar – Vision – 01 All for You
Bror Gunnar Jansson – Moan Snake Moan – 10 God Have Mercy
Lauryn Hill – Divine Secrets Of The Ya-Ya Sisterhood – 12 Selah
Johannes Kirchberg\einmal frei. und einmal glücklich sein\16 – Heimatlied
28.03.2019 Weltklang No. 175

                          March 19 Mix
Endlich ist es wieder so weit. Sonne und Vögel holen ein aus den Federn, nicht mehr die Geräusche warmlaufender Diesel und das Kratzen der Eisscharber.
Aber auch diesmal gibt es Verluste zu vermelden. Gerade kürzlich hat DICK DALE seinen Auftrittsort eine Etage höher gelegt, wo er jetzt vielleicht mit Hendrix und Konsorten surft. Obwohl, mit über 81 kann man's ja einfach mal lassen. Immerhin bekam er Dank Tarantino mindestens einen 2. Frühling geschenkt. Bei seiner 2010er-Tour lernte ich ihn mit über 70 kennen. Bodenständig und Rock-Roller bis ins Mark, ein toller Mensch und Musiker.
Als weiteren Highlight dieser 175ten Ausgabe von Weltklang nenne ich hier noch THEM. Was "Square Room" hier in den Raum wirft vereint mindestens "Wenn die Nacht am tiefsten…", "The End" und "White Rabbit". Um gleich mit "Nobody Loves Yout…" eine komplett andere Seite zu offenbaren. 1968? Hammer!
In der zweiten Hälfte bin ich dann irgendwie in die Dub-Kiste gerutscht. Verantwortlich war die gebastelte Brücke von Adolf Noise, die ich immer wieder gerne auskrame. Die führte mich letztlich zu LEE SRATCH PERRY der mit 82!!! seine neue Single "African Starship" bringt. Was für ein geiler Scheiß.
Dazwischen finden sich noch ein ganze Menge Perlen (Tinariwen, Plant, Waits oder die Lomax-Mixes) wie ich meine.
Also, lasst euch überraschen.
Gruß
Olaf
Playlist
Water Communication – Flow Motion (Oracle Remix)
Dick Dale & His Del-Tones – King Of The Surf-Guitar
Dick Dale & His Del-Tones – The Victor
Dick Dale & His Del-Tones – Misirlou [Pumpkin And Honey Bunny]
Rio Reiser "Familienalbum" – Michels – Bald Zuhause
The Rustavi Choir- Georgian voices – Tsmindao Chmerto (Holy God)
Them – Now And Them – Square Room
Them – Now And Them – Nobody Loves You When You're Down And Out
Tinariwen – Aman Iman=Water Is Life – Kyadarh Dim
Steve Cunningham – Hard Times
Tinariwen – Aman Iman=Water Is Life – Mano Dayak
Tom Waits – Glitter and Doom Live – Lucinda,Ain't Goin' Down
Tom Waits – Glitter and Doom Live – Singapore
Underworld – Barking – Simple Peal
Adolf Noise – Wunden, s. Beine offen – 40 Kaninchen
Rio Reiser "Familienalbum" – Söhne Mannheims – Mein Name ist Mensch
Lee Scratch Perry – African Starship (Single) – African Starship
Misty In Roots – The John Peel Sessions – Can't Stand It
Black Bombay – Karnatak Journey
Jah Seal – Best Seven Selections 3 – Jah Soldier
Alan Lomax's southern journey – hangman
Alan Lomax's southern journey – chantey
Alan Lomax's southern journey – john henry's blues
Robert Plant – Band Of Joy – Central Two-O-Nine
Adolf Noise – Wunden, s. Beine offen – Sachen, die Dich machen lassen Omh
28.02.2019  Weltklang No. 173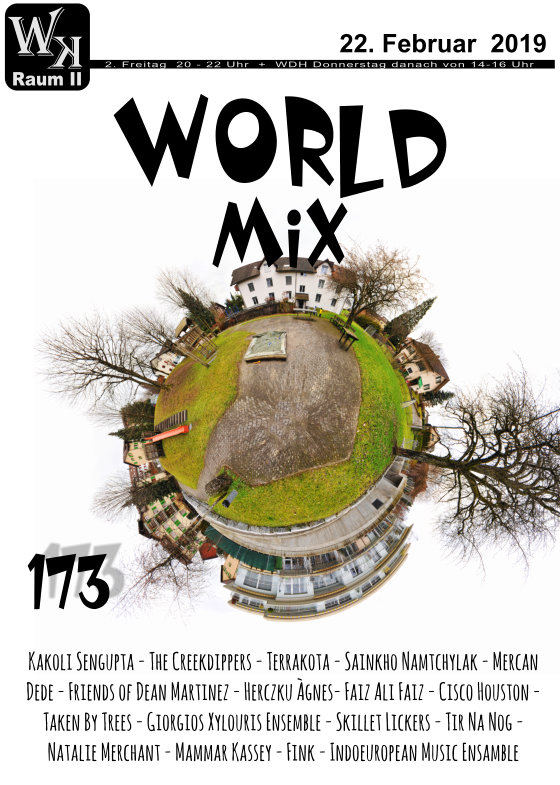 Playlist
Kakoli Sengupta – Shiva Bandana
The Creekdippers – Grand Army of the Republic
Terrakota – Rebola
Sainkho Namtchylak – Running Tapes
Mercan Dede – Dreams of Sufi Saints
Friends of Dean Martinez – So Well Remembered
Herczku Àgnes- hazám, hazám…moldva – my sweet home …moldavia
Faiz Ali Faiz – Allah Hu [Hamd]
Cisco Houston – Songs Of Woody Guthrie
Taken By Trees – Greyest Love Of All
Giorgios Xylouris Ensemble – Ta matia sou
Terrakota – Desert Zeppelin
Mercan Dede – Dream of Shams, Mevlana Jalaluddin Rumi
Friends of Dean Martinez – Why Does My Heart…
Skillet Lickers – People Take Warning!
Tir Na Nog – Tir Na Nog
Natalie Merchant – Sally Ann
Mammar Kassey – Soukabé lëidi
Fink – Das Liebste
Mercan Dede – Dream of the Dream, Last Chapter
Indoeuropean Music Ensamble – Banjara
14.02.2019  Weltklang No. 172 mit einem eindeutigen Schwerpunkt.
Gute Unterhaltung
Olaf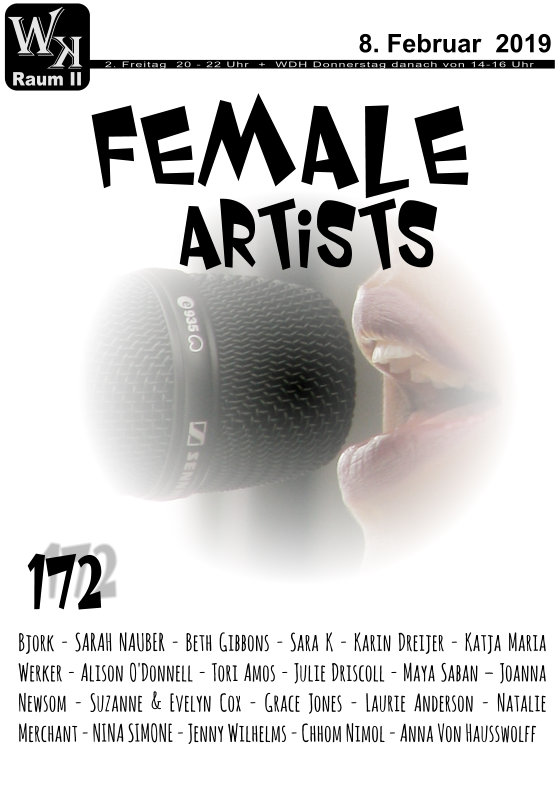 Playlist
Bjork – Vespertine – Frosti
Bjork – Vespertine – Aurora
The Swedish Man – Magnolia (Cave-Cover)
Beth Gibbons & Rustin Man – Rustin Man
Sara K – Streetlight's On [In The Groove]
The Knife – The Knife Shaking The Habitual 1 – A Cherry On Top
Werker, Katja Maria – Tief Im Innern – [Stockfisch Vol. II] 
The OWL Services & Alison O'Donnell – The Fabric of Folk – The Fabric Of Life
Tori Amos – Under The Pink – God
Brian Auger & Julie Driscoll – Best of – Seasons Of The Witch
Jewdyssee – 5773 – Beltz, Mayn Shtetele
Joanna Newsom – Have One On Me – Have One On Me.flac
OST – Down From The Mountain – Live – I Am Weary (Let Me Rest)
Angels in the Mirror – Vodou Music of Haiti – Rara la bel fraicheur de l'anglade – Legba nan bay a
Grace Jones – Hurricane DUB – This Is DUB
Laurie Anderson – United States Live – Big Science
Voices Of Forgotten Worlds (Disc 1) – Bunun – Bunun People of Taiwan
Natalie Merchant – The House Carpenter's Daughter – Which Side Are You On
Portishead – Dummy – Numb
NINA SIMONE – simone's finest hour -mississippi goddam
Gjallarhorn – Ranarop – Herr Olof
Dengue Fever – Venus on Earth – Seeing Hands
Anna Von Hausswolff – Dead Magic – Ugly And Vengeful
17.01.2019  Weltklang No. 170 Tonkunst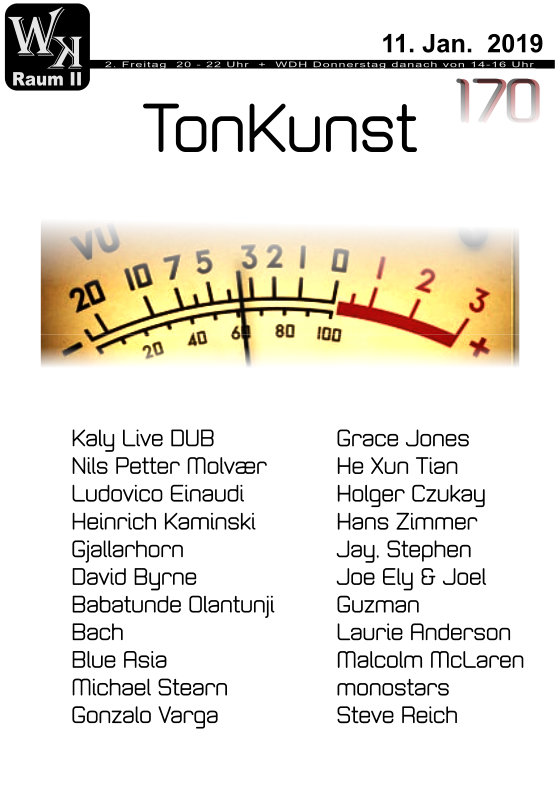 Playlist
Kaly Live DUB – Allaxis – Neuer Ordner – 06. Enjoy
Nils Petter Molvær – Khmer – 01. Khmer
Ludovico Einaudi – Diveniere – 09. Fly
Heinrich Kaminski – Heinrich Kaminski (1886-1946)- Das geistliche a-cappella-Werk – 21. Mensch, werde wesentlich
Gjallarhorn – Ranarop – 13. Kulning
David Byrne – The Knee Plays – 04. Social Studies
Babatunde Olantunji – Circle Of Drums – 03. Dawn (Idaji)
Bach Edition – Introduktion CD – 11. Flötensonate in E-Dur BWV 1035- Siciliano
Blue Asia – Hotel Vietnam – 04. Rung Xua Da Khep v.1
Michael Stearns – soundtrack Baraka – 08. Monk with bell
Gonzalo Vargas – soundtrack Baraka – 02. Wipala
Grace Jones – Hurricane DUB – Grace Jones – Hurricane DUB – 06. Hurricane DUB
He Xun Tian – Paramita – 04. Song of Pipa
Gjallarhorn – Ranarop – 07. I Riden Så…
Holger Czukay – Good Morning Story – 02. Good Morning Story
Hans Zimmer – Angels Demons – 06 Science And Religion
Jay, Stephen (rec) – Ghana – Ancient Ceremonies, Songs & DanceMusic – 07. Ahanta Chant II (Dixcove)
Joe Ely & Joel Guzman – Live Cactus! – 13. White Freightliner Blues
Laurie Anderson – United States Live, Disc 2 – 06. O Superman
Malcolm McLaren – Duck Rock – 01. Obatala
Malcolm McLaren – Duck Rock – 09. Song For Chango
monostars – absolut! – 01. hallo
monostars – absolut! – 02. unsichtbar
Steve Reich – Works 8 – 02. Different Train – Europe- During the war
Heinrich Kaminski (1886-1946)- Das geistliche a-cappella-Werk – 04. Alle Menschen müssen sterben -Fuge
03.01.2019  Weltklang No. 169 Konzept – Konzeptlos
Im Vorfeld zur 169. Ausgabe gingen mir die Begriffe Konzept & Album sowie Konzeptlosigkeit durch den Kopf.
# Konzeptalbum #
Ein Konzeptalbum ist ein Musikalbum, bei dem die einzelnen Titel nicht isoliert, sondern in ihrer thematischen Beziehung zu den anderen Teilen des Albums als Gesamtwerk betrachtet werden. Mehr auf Wikipedia (DE)
Interessant ist, dass der Begriff "Konzept" in der Kombination mit "Album" fast im Gegensatz zum Begriff Konzept allein steht. Ist das eine ein in Form gegossener Gedanke, der sehr planvoll eine (musikalische / textuale) Geschichte erzählt, steht der Begriff auf der anderen Seite eher für ein grobe Skizze.
Hinzu kommt, dass wir als Hörer meinen mögen es sei ein Konzeptalbum. Betrachten wir dann die Hintergründe der Entstehung, stoßen wir oft auf Zufälle oder eben gegenteilige Vorgaben.
In diesem Sinne euch eine schöne Zeit mit Nr. 169 von Weltklang.
Euer
Olaf
Playlist
Kai und Funky von Ton Steine Scherben & Gymmick – Radio für Millionen
08. Guten Morgen
The Beatles
03. Flying [magical mystery]
05. Your Mother Should Know [magical mystery]
01. Back in the USSR [white]
02. Dear Prudence [white]
29. Revolution 9 [white]
01. Because [love]
02. Get Back [love]
03. Glass Onion [love]
04. Eleanor Rigby-Julia [Transition][love]
05. I Am The Walrus [magical mystery]
Genesis
01. The Lamb Lies Down On Broadway [lldob – archive 69-74]
02. Fly On A Windshield [lldob – archive 69-74]]
05. In The Cage [lldob]
05. The Lamia [lldob]
Ton Steine Schwerben
04. Wie in den Tagen Midians [IV]
05. Vorübergehend geschlossen [IV]
06. Ebbe und Flut [IV]
10. Morgenlicht [IV]
11. Heimweh [IV]
03. S.N.A.F.T. [IV]
Schmetterlinge – Proletenpassion
CD 1 – 1. Wer schrbeibt die Geschichte
CD 1 – 2. Wir hattten Gräber und Ihr hattet Siege
CD 1 – 3. Lied der Geschichtslehrer
CD 1 – 4. Die Bauernkriege
CD 1 – 5. Des Bauern große Not
CD 1 – 9. Florian Gyers Schwarzer Haufen – BundSchuh
CD 1 – 15. Im Mai zu Frankenhausen
CD 1 – 17. Mächtelmöchtel
CD 2 – 1. Lärm und Stille
CD 2 – 2. Es fällt ein Soldat bei Tarnopol
CD 2 – 8. Wenn ich wieder reich bin
Schmetterlinge – Herbstreise – Lieder zur Lage – Drei rote Pfiffe
Ton Steine Scherben – IV – 11 (Auf ein) Happy-End
09.11.2018  Weltklang No. 167 Lebenszeichen
Gestern im Keller neues Archiv-Regal gestemmt und ein wenig durch selbiges gepflügt, woran ich euch ein wenig Teil haben lassen möchte.
Euer
Olaf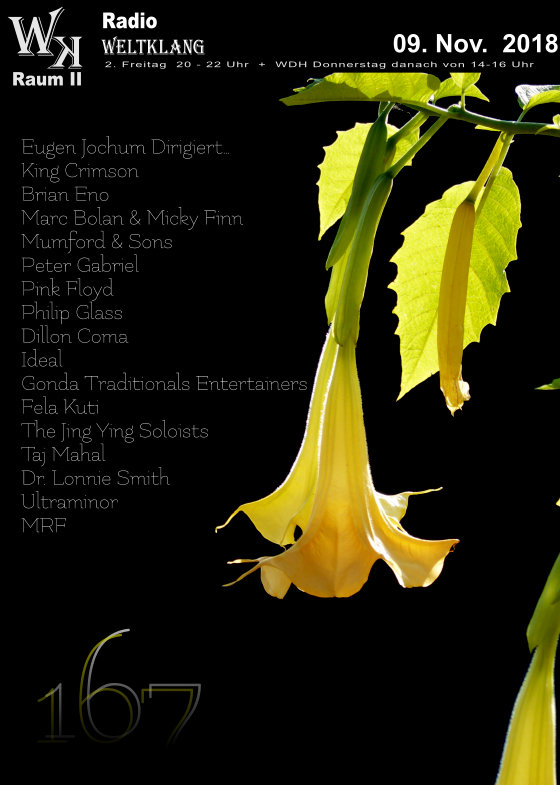 14.06.2018: Eine Abmischung
31.05.2018: Weltklang No. 166 ; Eine Abmischung
backspace

Als Ergebnis meiner Fahrten durch das Umland kamen Erinnerungen auf, die sich in Ausgabe 166 niederschlagen. Ein wenig wie der Blick in den Rückspiegel. Mit ein wenig Geplauder über vergangene Tage angereichert, wünsche ich euch mit dieser Ausgabe entspannte Stunden.
Euer
Olaf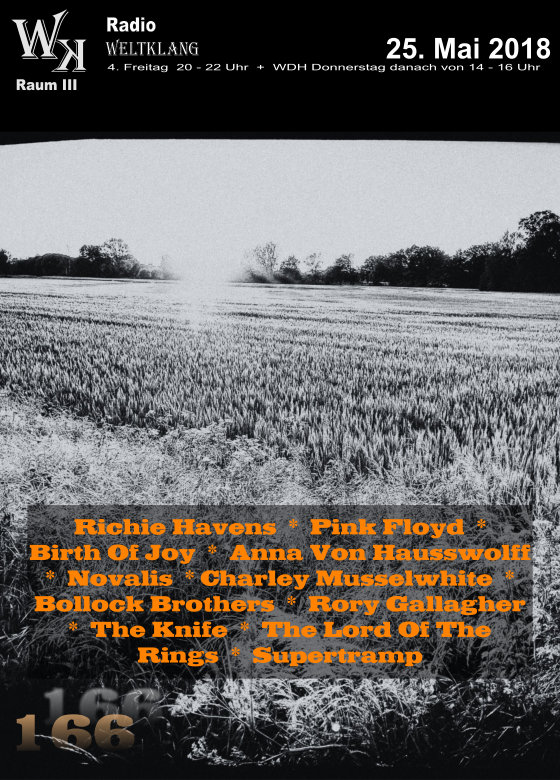 Playlist
Richie Havens – Freedom
Pink Floyd – Grantchester Meadows
Pink Floyd – Several Species Of Small Furry Animals Gathered Together…
Birth Of Joy – Hyper Focus – 03 You are many
Birth Of Joy – Hyper Focus – 04 i
Birth Of Joy – Hyper Focus – 06 Forenoon
Birth Of Joy – Hyper Focus – 08 ii
Birth Of Joy – Hyper Focus – 11 Poor Duffy
Anna Von Hausswolff – Dead Magic – 01 The Truth The Glow The Fall
Novalis – Sommerabend –  Wetterleuchten / Am Strand / Der Traum / Ein neuer Tag / Ins Licht
Charley Musselwhite – Stand Back – 09 My Baby
Charley Musselwhite – Stand Back – 07 Strange Land
Bollock Brothers – The Official Bootleg – The slow removal of Vincent van Gogh's left ear
Rory Gallagher – BBC Studio Sessions  – Hoodoo Man.
Rory Gallagher – Irish Tour '74 – 40th Anniversary Deluxe Box – Going To My Home Town (Previously Unreleased)
The Knife – Shaking The Habitual – Raging Lung
OST –  The Lord Of The Rings – The Fellowship Of The Ring – A Knife In the Dark
Supertramp – Even In The Quietest Moments –  Fool's Overture
09.03.18 Weltklang  No. 152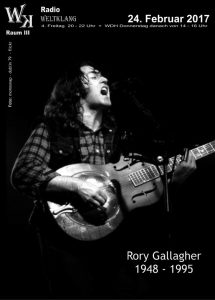 (Ursendung 24.02.17)

Playlist
1971 – Rory Gallagher\01 Laundromat
BRUTE, FORCE & IGNORANCE – live (handy)
Taste – On The Boards 1970 \
01 What's Going On
03 It's Happened Before, It'll Happen Again
RORY GALLAGHER & TASTE-RARE – 4 C.D.s 1967-1970\
– 1967-Take It Easy Baby 1967 !\03 take it easy baby
– 1970-Live At The Isle Of Wight\05 – I Feel So Good
1971 – Deuce \
01 I'm Not Awake Yet
02 Used To Be
1972 – Live In Europe \
02 Laundromat
04 Pistol Slapper Blues
Rory Gallagher – London Muddy Waters Sessions
6 – Walking Blues
3 – Young Fashioned Ways
1973 – Blueprint \ 05 Race The Breeze
1973 – Tattoo \ 02 Cradle Rock
1974 – Irish  Tour \ 06 A Million Miles Away
Irish Tour '74 – 40th Anniversary Deluxe Box – 7CDs (2014)
\CD2\ 5 [Rory Gallagher] Going To My Home Town (Previously Unreleased)
1976 – Calling Card \ 03 Moonchild
1978 – Photo Finish \ 06 Shadow Play
1979 – Top  Priority \ 03 Wayward Child
1988 – Defender \ 03 Continental Op (To Dashiell Hamme
1988 – Fresh Evidence \ 02 The King Of Zydeco
Live At Montreux (Disk 2) 2006 \2-02 Continental Op
---
---
mehr erfahren
---